GALICIANTUNES ON TOUR: CELTIC CONNECTIONS 2019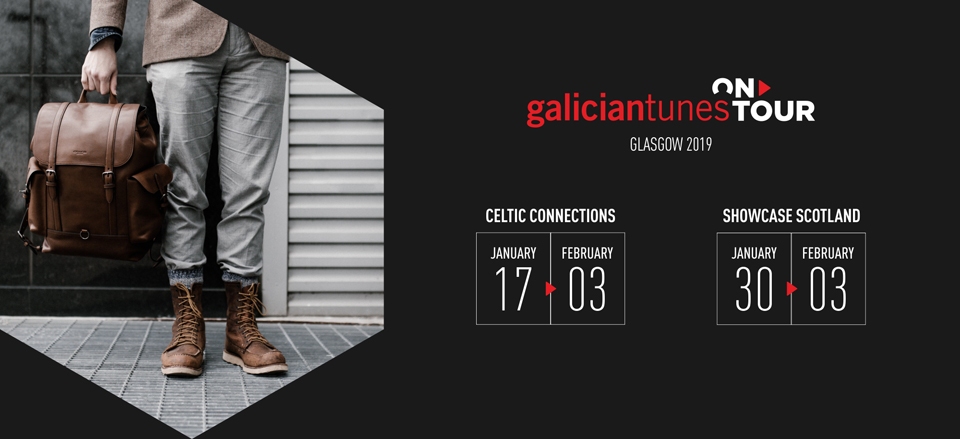 Galicia will have a leading at this year's Celtic Connections festival, considered one of the most important of the winter season worldwide and the most outstanding in the field of Celtic music, as it will the international partner of its Showcase Scotland Expo. For this reason, Galicia's Ministry of Culture and Tourism organized, through Agadic and under the GalicianTunes On Tour brand, an institutional, professional and artistic delegation in order to support the foreign scope of our music and to promote Galicia as a cultural tourism destination.
Eight Galician artists and bands will land in Glasgow (Scotland) on 17th January, the day when SonDeSeu will play on the main stage of the Glasgow Royal Concert Hall during the opening ceremony. As part of the Celtic Connections lineup, Anxo Lorenzo and Mercedes Peón will also play in the Scottish city on the 25th and 26th respectively.
Between 30th January and 3rd February, performances by Mónica de Nut, Xabier Díaz & Adufeiras de Salitre, Tanxugueiras, Anxo Lorenzo, A Banda das Crechas and Talabarte will be also included in the Showcase Scotland Expo. In addition to the general public, these concerts will be followed by around a couple of hundred accredited delegates from all over the world, among whom are sales agents, festival managers, record labels, managers, and media from around twenty countries.
> Calendar: Galicia at the Showcase Scotland 2019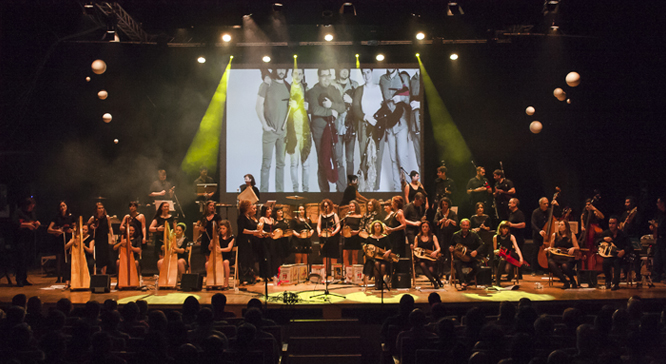 It was originated in the Traditional Music Department of the School of Arts and Crafts (Vigo), current E-Trad, and almost 20 years later, SonDeSeu is a reference among European orchestras of contemporary folk music. Since its creation, the group from Vigo, promoted and directed by Rodrigo Romaní (Milladoiro), pursues the fusion between specialized training, stage practice and music within the community. With a repertoire composed of songs from the oral tradition of Galician popular music, SonDeSeu already has five records in the market; the last one, Beiralúa (2018), released in May 2018, an album that celebrates a fullfilling life through 18 songs and for which the orchestra relied on, unlike their previous works, with the collaborations of Xosé Lois Romero, Pedro Lamas, Rosa Cedrón and Treixadura, among others.
Celtic Connections
Date: 17th January
Time: 7:30 PM
Venue: Glasgow Royal Concert Hall, Main Auditorium
BOOKING: Nalgures Producións | (+34) 982 250 245
| nalgures@nalgures.com | sondeseu.org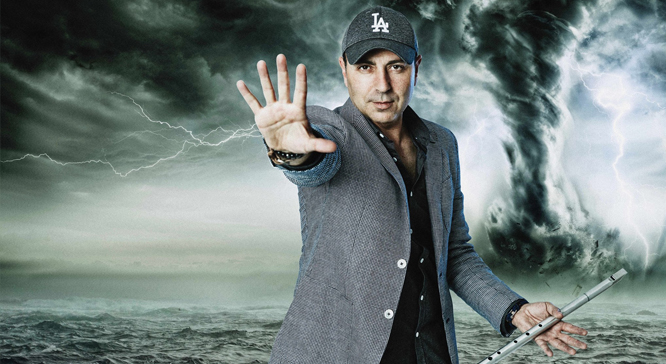 Anxo Lorenzo is described as a "Galician gaita maestro", the Moaña native is a virtuoso award-winning piper, renowned for his incandescent live performances. Lorenzo has taken Galicia's piping tradition on an exhilarating, almost two-decade-old worldwide adventure "trading tunes and styles with jazz, pop, rock and flamenco". Through the UK, Ireland, Germany, Belgium, France, Italy and, of course, Spain and Portugal. Since his first solo album, Tirán (Zouma Records, 2009), his pipe has became "an avant-garde instrument without losing its Celtic roots" and, after many years collaborating with "what reads like a who's who" within the folk-music scene, on his latest record, Vortex (2018), Anxo Lorenzo has brought together lots of artists such as Eoghan Neff, Jarlath Henderson, Blackie O'Connell, Ross Ainslie, Andy May, Germán Díaz, Cyril O'Donoghue, Ali Levack, Pablo Lafuente, David Foley and Xavi Aburruzaga, among others.
Celtic Connections
Date: 25th January
Time: 7:30 PM
Venue: Glasgow Royal Concert Hall, New Auditorium
Showcase Scotland. Galician Reception
Date: 1st February
Time: from 3:00 PM
Venue: Drygate Brewery
Showcase Scotland
Date: 1st February
Time: 7:30 PM
Venue: Queen Margaret Union
BOOKING: Mirmidón Producciones | (+34) 667 706 241
| maruchy@mirmidon.es | anxolorenzo.com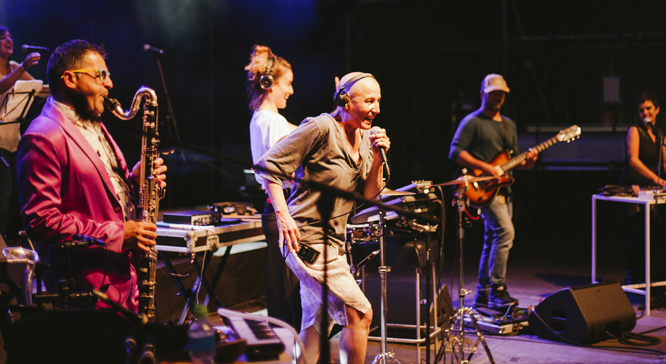 For more than 15 years she toured villages in Galicia gathering the oral and musical tradition of the Galician people in order to pass it on to future generations. And she taught, she was part of the folkloric group Xacarandaina, she founded another one under the name of Arjú, she collaborated with Budiño, Carlos Núñez or Kepa Junquera ... we stand before a great female reference of Galician music, Mercedes Peón, musician, composer, multi-instrumentalist, vocalist and producer. With four records that renew the folk music imaginary of our country, Peón released, in the middle of last year, the amalgam of folk and electronics that is Deixaas (Altafonte, 2018), his fifth music album, eleven tracks that draw a disturbing musical concept map.
Celtic Connections
Date: 26th January
Time: 7:30 PM
Venue: The Barrowland Ballroom
BOOKING: DISCOTROMPO | (+34) 649 454 057 | International booking: vbelho@gmail.com | mercedespeon.gal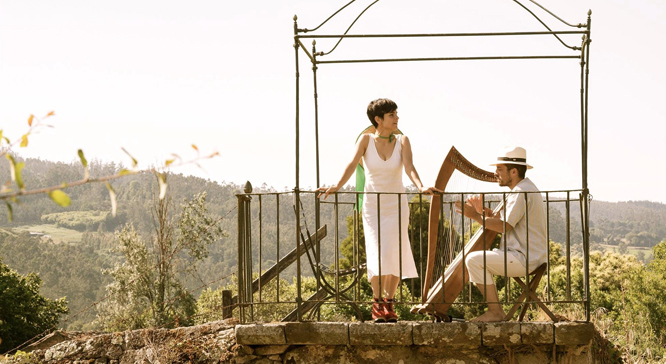 Mónica de Nut is miscegenation. Jazz, traditional Galician music, classical music, electronic music, rock ... everything is mixed in a unique cocktail of sounds where her virtuous vocal games stand out. But it is also miscegenation because it is hard to think about their music without realizing that the singer, the actress and the teacher are mixed together in perfect harmony. De Nut joins the musician Luís Martíns (acoustic and electric harp) to record her third album Raíces aéreas (Freecode Jazz Records, 2016) with the inspiration put on "the recordings of field collection in Galicia, songs of women that transmit all the ancestral force; Crude, vital and powerful, they connect us to the root of knowing where we come from and what our essence is. We recreate this heritage through the traditional acoustic sonority of the voice and the harp and the improvisation and experimentation with more electronic sounds".
Showcase Scotland
Date: 30th January
Time: 7.30 PM
Venue: Mitchell Theatre
BOOKING: Ana Triñanes | (+34) 678 034 593 | anatrianes@gmail.com | monicadenut.com
XABIER DÍAZ & ADUFEIRAS DE SALITRE
Xabier Díaz (Berrogüetto, aCadaCanto), one of the main voices within the trad-galego scene who combines his sides as a musician and composer with a laborious activity as a researcher and compiler of Galician folklore, presented in 2015 a new project with cantareiras Adufeiras de Salitre and the Álvarez brothers, Gutier (hurdy-gurdy) and Javier (diatonic accordion). Together, they have published their first album that same year, The Tambourine Man (Músicas de Salitre, 2015), composed of 13 reinterpretations of traditional Galician music with an avant-garde approach, a tribute to the simple sound of traditional percussion. Almost a year ago they released Noró (Músicas de Salitre, 2018), a "declaration of love to the North" in other 13 songs where voice and percussion share the limelight.
Showcase Scotland
Date: 31st January
Time: 8:00 PM
Venue: Old Fruitmarket
Showcase Scotland. Galician Reception
Date: 1st February
Time: from 3:00 PM
Venue: Drygate Brewery
Showcase Scotland. Galicia Festa
Date: 1st February
Time: 8:00 PM
Venue: Drygate Brewery
BOOKING: Producciones Mirmidón | (+ 34) 667 706 241
| maruchy@mirmidon.es | xabierdiaz.com/es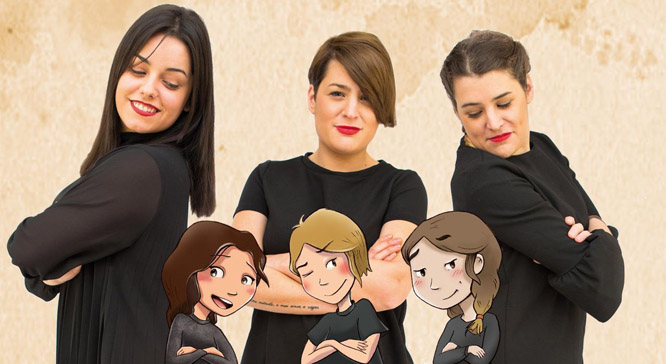 Starting from a rigorous knowledge of traditions and music of oral transmission, there is a unique encounter between Sabela Maneiro, Aida Tarrío and Olaia Maneiro where magic, naturalness, spontaneity and musical communion arise from the first minute that revolutionize the Galician music scene. The world of the tambourine and the traditional dance is going through an exceptional period in Galicia and Tanxugueiras makes it approachable in an easy, natural way, with an unusual filling in the voices, with elegant and careful arrangements, with a big and clear sound, with an unusual affection, with an instrumental pitch that connects East and West, with wit and humor. After touring through national and international stages (remember that they became viral at the Celtic Connections 2017) the trio from Coruña debuted last summer with Tanxugueiras (2018), a record composed of 11 carefully chosen songs.
Showcase Scotland. Galician Reception
Date: 1st February
Time: from 3:00 PM
Venue: Drygate Brewery
Showcase Scotland
Date: 31st January
Time: 7:30 PM
Venue: King's Theatre
BOOKING: PlayPlan Cultural | +34 986 903 509 - +34 696 874 302
| contratacion@playplan.es | tanxugueiras.com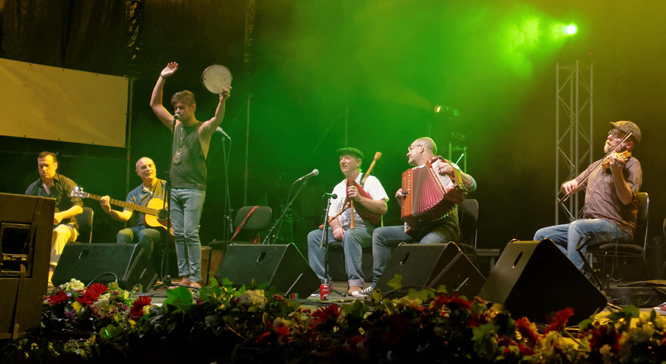 Band born in Casa das Crechas (Santiago de Compostela), a unique environment of the Galician capital where, every Wednesday, the eight components of the Band come together to share a repertoire composed, mainly, by traditional Galician and peninsular music. A Banda das Crechas is "an open ensemble, a band 2.0" where regular musicians and occasional performers come together to keep the tradition, the sounds and emotions of the foliadas in sing-and-dance nights alive. In addition to collaborating in several compilations, such as Galiza (2013) by Kepa Junkera or A Way to the Atlantic (2014) by GalicianTunes, the Band has also released their own album, ABDC (Fol Música, 2010), an LP where we listen to traditional songs with nods to rhythms of diverse origin, such as the Balkans, Ireland or Scandinavia, in 15 songs that transmit the magic of live music through the headphones.
Showcase Scotland. Galician Reception
Date: 1st February
Time: from 3:00 PM
Venue: Drygate Brewery
Showcase Scotland
Date: 2nd February
Time: 7:30 PM
Venue: Glasgow Royal Concert Hall, New Auditorium
BOOKING: Manuel Amigo | (+34) 690 293 120
| manuelm.amigo@gmail.com | abandadascrechas.sitio.gal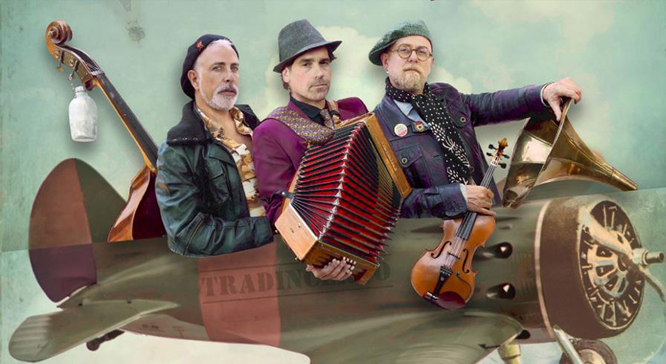 Talabarte are Kin García (double bass), Pedro Pascual (diatonic accordion) and Quim Farinha (violin), artists who have extensive experience in groups such as Susana Seivane, Marful or Berrogüetto. In acoustic, purely instrumental and based on traditional Galician music, their repertoire mixes popular melodies with chords from more distant latitudes. With their first album, Talabarte (Fol Música, 2011), they won critics and audiences and toured the Iberian Peninsula, Brittany, Serbia ... Their second album, Fake (Fol Music, 2016), is a book disc, which the trio presented in WOMEX 2016, composed of 12 songs about their own adventures to the sound of traditional European melodies mixed with the charateristics chords of the other side of the Atlantic. In their concerts there is risk, improvisation and energy, Talabarte does not leave anyone indifferent and invites us to keep moving soul and feet.
Showcase Scotland. Galician Reception
Date: 1st February
Time: from 3:00 PM
Venue: Drygate Brewery
Showcase Scotland
Date: 2nd February
Time: 7:30 PM
Venue: Saint Luke's
BOOKING: Culturactiva SCG | (+34) 981 582 836 - (+34) 619 933 348
| info@culturactiva.org | talabartemusic.com